█ Getting to Know Oregon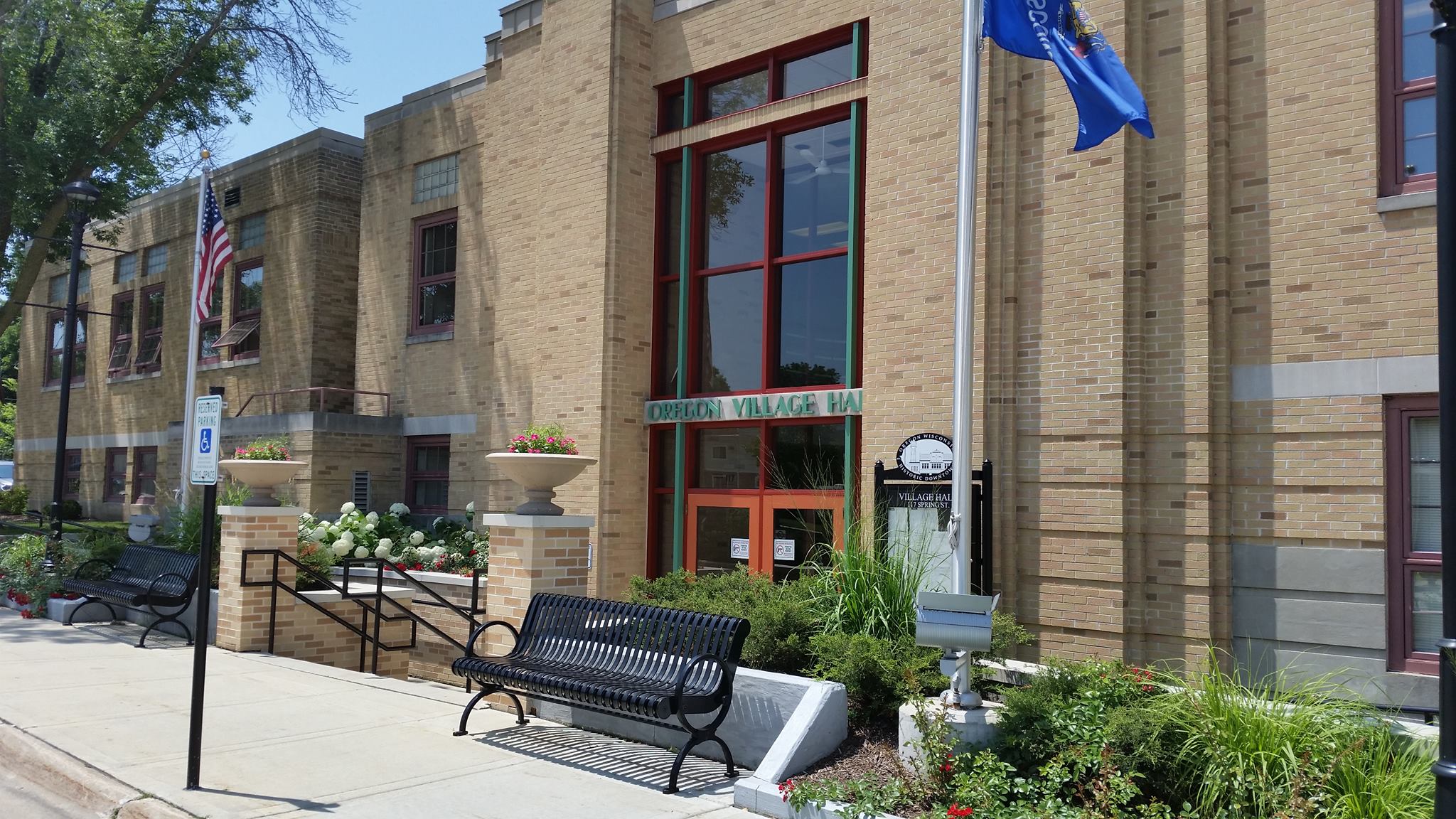 From historic downtown homes to sprawling Bergamont estates, there are a lot of living options to choose from in Oregon WI — ranging from under $200,000 to $2 million. With just under 10,000 residents, this town only 7 miles south of Madison, offers the sense of community you'd expect to find in a small town, along with all the amenities of the nearby Capital City.
The Oregon Chamber of Commerce touts the village as a "family-friendly community" with a "hometown ambiance and small town hospitality."
And it's not just residents that like Oregon — in 2011, CNN Money ranked it as the #99 Best Small Town on its Places to Live list. Among the reasons? Low crime, good schools and an affordable 2011 median home price of $188,092 — about $75,000 less than the average of other Best Places towns that made the list. Today the median home value is $257,300 according to the Oregon Area Chamber of Commerce. Math test scores among Oregon students came in 5 percentage points above average.
Founded back in the 1840s, Oregon today is a mix of historical and modern, as evidenced by the schools, restaurants and businesses you'll find here. There are mature neighborhoods on tree-lined streets and modern houses — as well as condos — along golf course fairways.
The demographic of Oregon, whose first settlers were generally of European ancestry, is 95% Caucasian and 2.5% Latino, with a smaller percentage of African American, Native American, Asian, and Pacific Islander making up the majority of the rest. The average age of residents here is a young 33 years old and the average median income as of the CNN ranking was $79,578, which is presumably higher almost a decade later. 43% of households included children under 18 living at home.
Looking for a place to live — and maybe raise a family? There's something for everyone in Oregon. In the Village's downtown area, including Main, Lincoln, Jefferson and Janesville Streets, you'll find historic homes — some of which are on the National Register of Historic Places.
One of the nicest things about Oregon is the variety — and number of affordable — neighborhoods. In Netherwood Heights you can find a home in the $175,000 range. Prefer new construction? Check out the Windcrest neighborhood where homes start at around $250,000. Another spot to find a newer house is Alpine Meadows where houses start around $275,000. And of course, if you've ever attended the Madison Area Parade of Homes, you may have toured some of the larger homes in the Bergamont neighborhood. There you'll find homes priced at $500,000 and up — especially those along the fairways of the Bergamont Golf Course.
Downsizing — or maybe just starting out? How about a condo? Whether you're looking for something smaller, more affordable, or just a place where someone else does the lawn work and shoveling, a condo might be right for you. You'll find plenty to choose from in Alpine Meadows, as well as the Autumn Wood and Foxboro Golf Courses.
There are lots of other attractive neighborhoods in both the village and town of Oregon, as well. Contact CB Success to learn more about the neighborhoods and amenities of Oregon. There's sure to be one just right for you!
Explore Oregon and learn about Oregon's history through a self-guided walking tour of the historic districts! Download the brochure here for access to instructions, maps, a brief description of Oregon's history and more!
---
█ Oregon, WI — you'd better say it right!
A little history of the town and village
Oregon, WI, is a village of 9,797, located 7 miles south of Madison. While there are a lot of interesting things to learn about Oregon, the first – and most important — is how to pronounce the name.
As you've probably heard, residents of that western state just south of Washington, pronounce the word Or-a-gun (the last syllable rhymes with bun). Residents of Oregon, WI — and just about every other Wisconsinite — will tell you the name is Or-a-gon (which rhymes with Don).
No one knows the exact reason for the different pronunciations, although linguists suggest it might come from a significant and ongoing vowel shift in North American English, particularly in northern cities. They add that both ways of saying the name are actually correct— because locals get to decide the local pronunciation. Basically, they own the word — and can say it however they choose!
The origin of the name is somewhat of a mystery, with suggested sources including a French word for hurricane, a couple Spanish words describing rivers, and a Native American word meaning fish.
So how did Oregon, WI, even get its name? After all, it's nowhere near the state. It's hundreds of miles away from the Oregon Trail, which begins in Independence, Missouri. And it's no closer to the Oregon District of Dayton, Ohio (which correctly pronounces the name Or-a-gon, by the way!). But village history says that when the Chicago and North Western Transportation Company traveled though around 1864, their maps listed the area as "Oregon" — and the name stuck.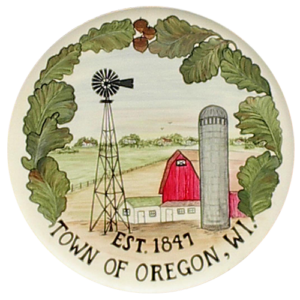 So to make things more complicated, you should know that there's actually a Town of Oregon and a Village of Oregon. The town, originally known as Rome (pronounced just like the country), was founded on what was primarily prairie land in 1841 by Barlet Runey. He settled there with his family and built a tavern along the Old Lead Trail, which became a favorite watering hole for travelers. The first recorded "town" meeting was held in 1845 and several churches were organized and erected in the next few years. The population in 1870 was 1,498. Today it's 3,192.
Robert Thomson was the first village settler, according to Oregon's "historic walking tour" brochure. He built a log home in 1942 on the shores of Thompson's Creek, in what was then known as Rome Corner before becoming the Village of Oregon.
Just a year later, in 1943, C.P. Mosely built the area's second tavern — to be used for business and religious meetings. A general store was established in 1845, followed by a post office in 1848. Several churches and other organizations soon sprang up as well.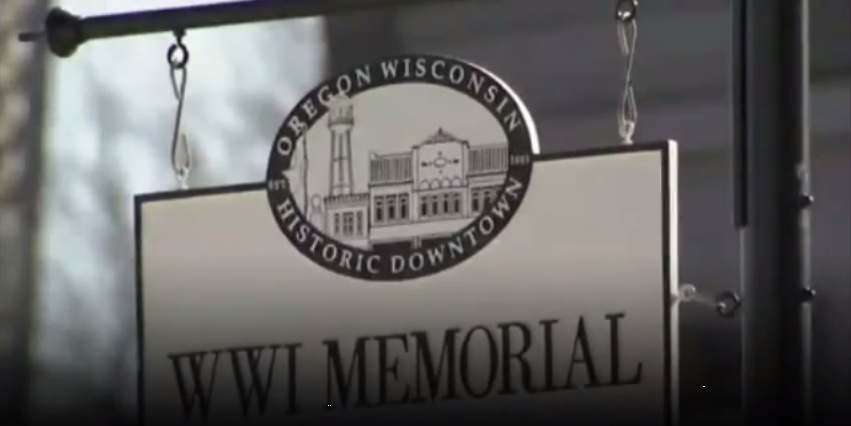 The Old Lead Trail, commonly used for stagecoach and mail routes and the Beloit and Madison Railroad, were instrumental in boosting Oregon's population and trading capabilities. Some of Oregon's original buildings — including the original water tower and Little Red Schoolhouse — are still standing today.
While they are separate entities with their own governing bodies, the town and village of Oregon share some services, and children from both "Oregons" are part of the Oregon School District today.
It's unknown how the pioneers pronounced the "Oregon" Trail as they were forging their way westward. But my kids definitely enjoyed playing what we called the Or-a-gon Trail video game while growing up. Is that because we live closer to the city than the state? Maybe. But we like to think it's because it's the right way!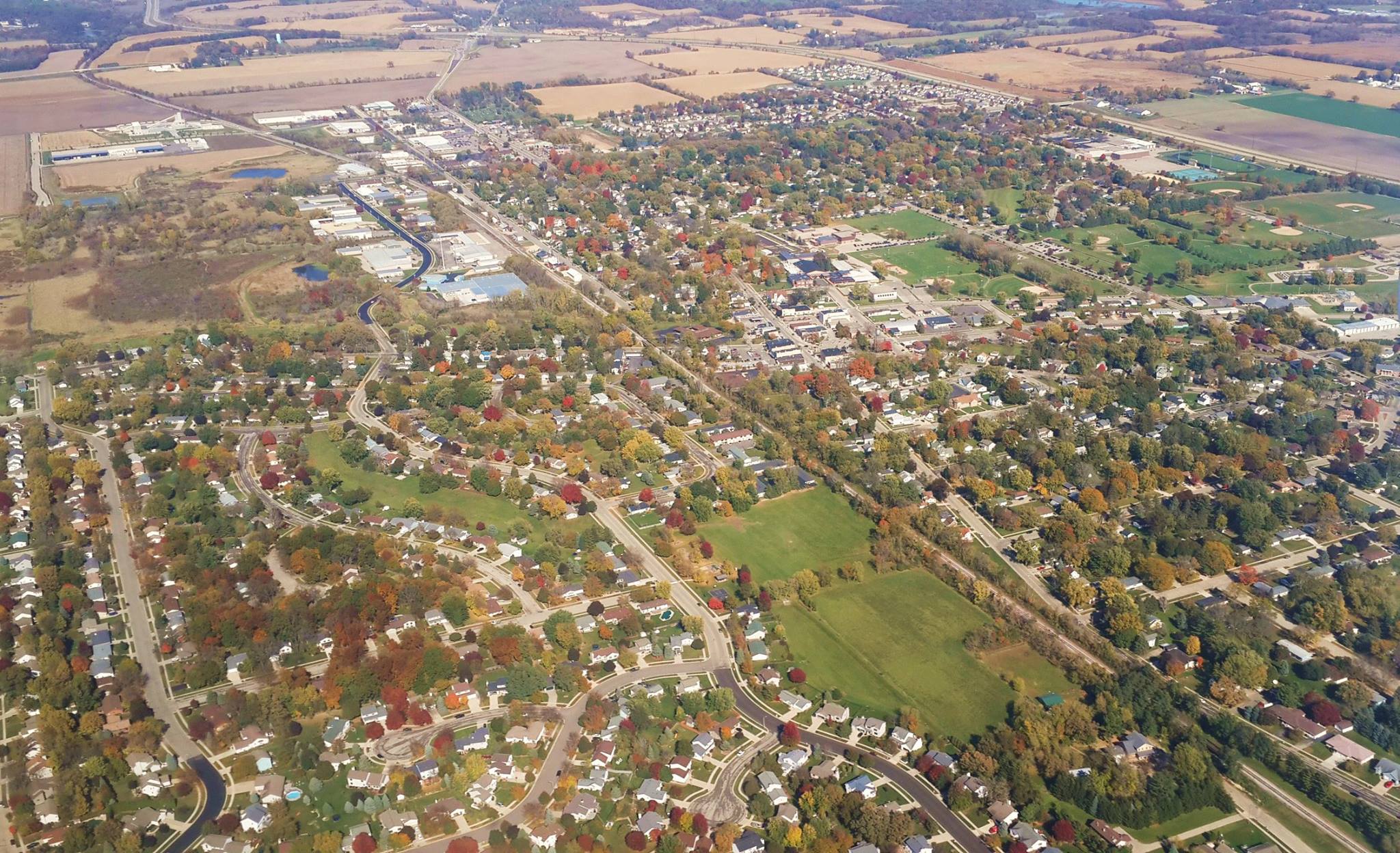 █ Things to See & Do in Oregon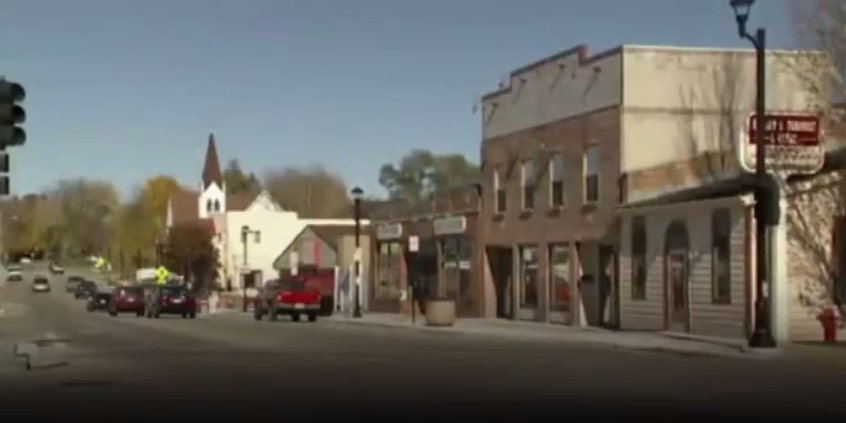 Called a "family-friendly community" with a "hometown ambiance and small town hospitality" by the Oregon Area Chamber of Commerce, Oregon is all that and more. At just under 10,000 residents, Oregon is place where people know their neighbors. They recognize the parents of their children's school friends and sports teammates. Shop owners greet customers by name.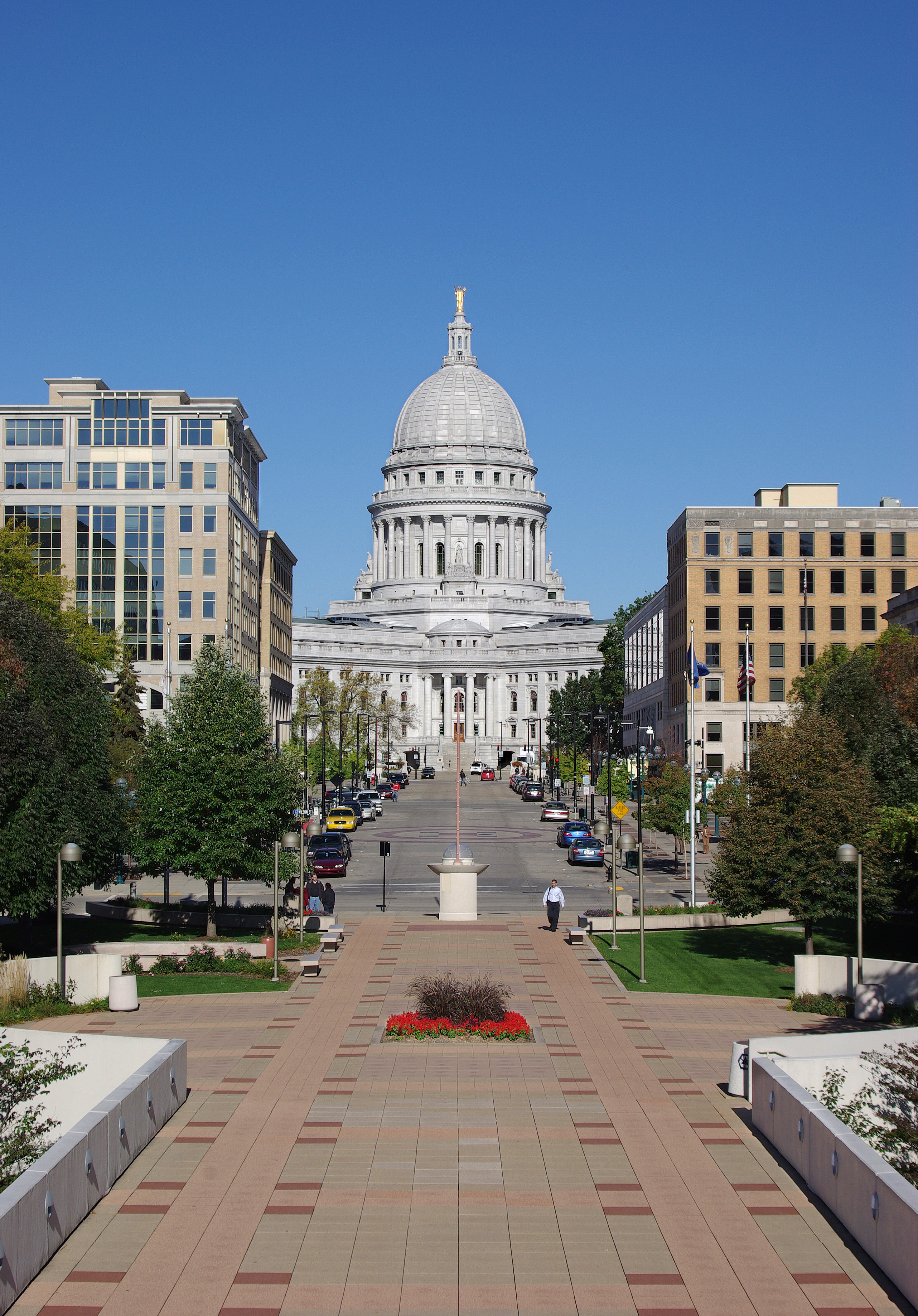 Yet the town and village both share the added perk of being close to Madison. Just 7 miles south of the Capital City and the University of Wisconsin, that puts them within reach of all the amenities the larger city has to offer. There's something for everyone — UW athletics, the Overture Center, Madison Mallards Baseball, Flamingos Soccer, the (free) Henry Vilas Zoo, the Dane County Farmer's Market, UW Arboretum, Olbrich Gardens, State Street, shopping centers, restaurants, bike trails, and a multitude of concerts, special events, and much more.
Oregon is also just over a half hour drive away from the Dane County Regional Airport making air travel easy. Even closer is Hwy 14, leading to the Beltline and on to Hwys I-39/90/94 to the North and to I-39/90 heading south toward Rockford and Chicago.
Oregon's warmer season, which spans 3.9 months, averages a high of 71 degrees (with an average high of 82 on July 18). The low during this period is a comfortable 64 degrees. This is a great time to be outside.
Oregon's biggest event of the year is Summer Fest — a community celebration geared to the whole family. You'll find carnival rides and games, food, drinks and more at Kiser Firemen's Park the third weekend in June. The event includes live entertainment, fireworks, a parade, and car show, as well as a volleyball, softball and "cornhole" tournaments and a run/walk for charity.
On ordinary summer days, there's lots to do at one of Oregon 's 18 parks. Some provide sports fields, some have shelters and/or picnic facilities. There are parks with children's playgrounds and others that offer your dog a place to run free. Kiser Fireman's Park has a fair grounds. Lerner Conservation Park offers walking and biking trails.
Although it may seem like longer to most of us, the cold season lasts 3.2 months. During that time, the high reaches an average of 38 degrees. You might want to find an indoor activity to keep warm on January 28th, considered the coldest day of the year with an average high of 27 and low of 13 degrees. Of course anyone who knows Wisconsin, knows that the wind chill may cause that to feel even a bit cooler.
Fortunately, winter brings with it holiday and snow event! In November, there's a Holiday Lights Display Set-up Event at Triangle Park in downtown Oregon. And the Oregon Ice Arena on Perry Parkway, provides an outlet to burn off that winter cabin fever. Learn to skate, enjoy an hour or two of free skate, or attend a local youth or high school hockey game.
The Oregon Area Chamber of Commerce serves both the Village of Oregon and Town of Oregon as well as surrounding and rural communities in the area. A membership-based organization, the group's goal is to boost economic and business growth — while contributing to the quality of life of their residents. With these goals in mind, the Oregon Area Chamber plays a large role in organizing and holding and community events all year round.
A free Business Expo, held in the spring and fall at Firefly Coffeehouse & Artisan Cheese in Oregon, is open to area businesses and the public alike. Businesses can highlight their goods and services to the public — and attendees can get a feel for what their local businesses have to offer.
The Oregon Library, located at 256 Brooks Street, is a great place to browse the bookshelves, pick up a book requested from another library, do some research, hold a meeting, or just meet up with friends.
The Oregon Senior Center serves as a welcoming destination for "older adults." Located at 219 Park Street, the Center offers support, workshops, and a place to hang out with other seniors to enjoy games, food, friends, and more.
And year round, the community can enjoy the Oregon Pool where the water temperature is always 83 –84 degrees and the air temp is 86! The 25-meter pool (containing 177,000 gallons of water!) has a diving well and a shallow end that ranges from 3-5 feet, for the more cautious. Take lessons, swim laps, soak in the whirlpool, or cheer on the boys and girls high school swim teams.
Whatever your interests or time of the year, you're sure to find lots to do in and around Oregon, WI!
---
█
Looking for a good school district in the Madison area? Consider Oregon.
Looking for a good school district in the Madison area? Consider Oregon. With 3,984 students overall, classes have an average ratio of 14-1. And Niche.com ranks Oregon 4th best among the 31 Madison area school districts, as well as all school districts in Dane County. The district's mission? "Helping students acquire the skills, knowledge and attitudes needed to achieve their individual potential..."
That mission statement might be part of what makes their schools so good. Niche gives them an A ranking for academics, teachers, and college prep. Sports is close with an A- and they get a B+ in clubs and activities, health and safety. Resources and facilities, food and administration all come in with a solid B. Those scores translate to a ranking in the top 10% of Wisconsin schools (30 out of #367). Students here are above average in both reading and math proficiency — and Oregon boasts a 97% graduation rate.
The Wisconsin Department of Public Instruction gave a similarly high score to Oregon for the 2018-19 school year. It achieved a 79.2 which translates to "exceeding expectations," making it one of the top districts in Dane County. The totals are based on test scores, district growth, closing gaps, and graduation rates.
The Oregon School District takes the needs of their students and community very seriously. Which is why, realizing that Oregon schools were experiencing an enrollment boom, the district decided a 4th elementary school was needed to meet the growing needs of the students here — especially the area in the northern section of the district near the Hwy 14 corridor. Student population is expected to jump from just under 4,000 to more than 6,000 by 2030.
Thanks to community support, a November 2018 referendum passed — approving $47 million for a new school. This is the first part of a 2-phase plan to address continued growth in the district. The result? Voters passed plans to build a K-6th grade elementary school. Phase 2, which will require another referendum, proposes to build a 6-8 grade middle school projected for the mid 2020s.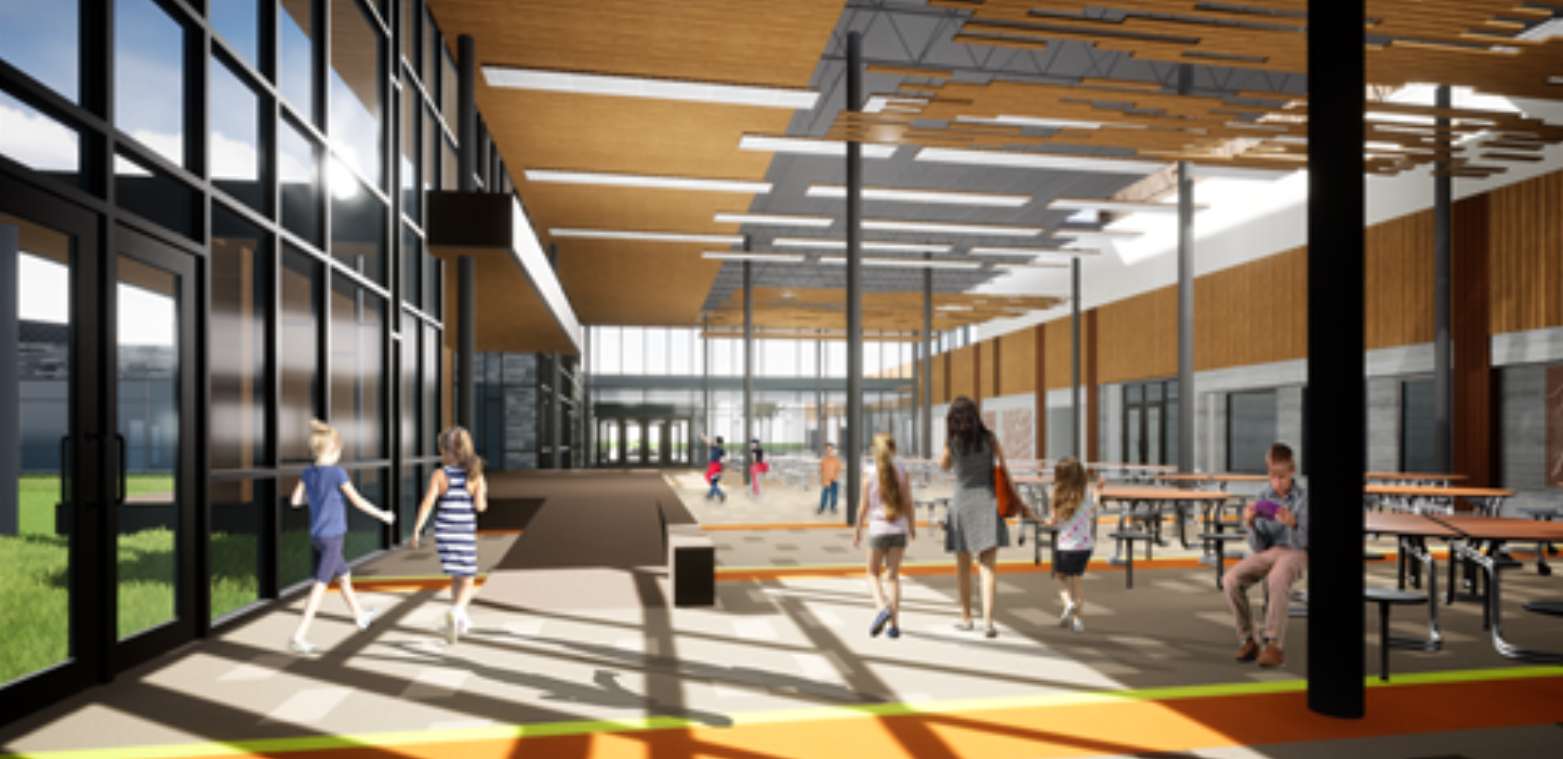 And if you already live in Oregon — or are thinking of buying a home here, the good news is that Phase 1 is now well underway! Located in Fitchburg's new Terravessa neighborhood, just east of the Lacy Road/U.S. Hwy. 14 interchange, a public groundbreaking was held on June 6, 2019. And in December 2019, the new school officially got its name — Forest Edge. The district put a call out for suggestions and received more than 200.
Forest Edge was selected "by the whole community," says Superintendent Brian Busler, adding, "We know that communities are built around neighborhoods, and this is a neighborhood-designed elementary school. We think that will help foster growth and development. In thriving communities, a school is a great anchor that helps serve the greater community."
Set to serve the far north end of the district, Forest Ridge will alleviate the overcrowding at all elementary schools and the intermediate school. According to Busler, the roughly 130,000-square-foot school will have the capacity to serve up to 600 students and can help bring 2,000 additional students to the district. Plans for the school building include 3 inner courtyards, several playgrounds, and a unique butterfly garden.
The school is designed as a "net zero" building — one that produces at least as much energy as it uses. Energy-efficient features include solar panels, geothermal heating/cooling — and even the building's location itself, which is strategically placed to take advantage of natural light. But don't worry — those points are just frosting on the cake. Staff input also focused heavily on meeting the district's educational goals, by designing warm and inviting classrooms as well as rooms for small group instruction and group collaboration spaces.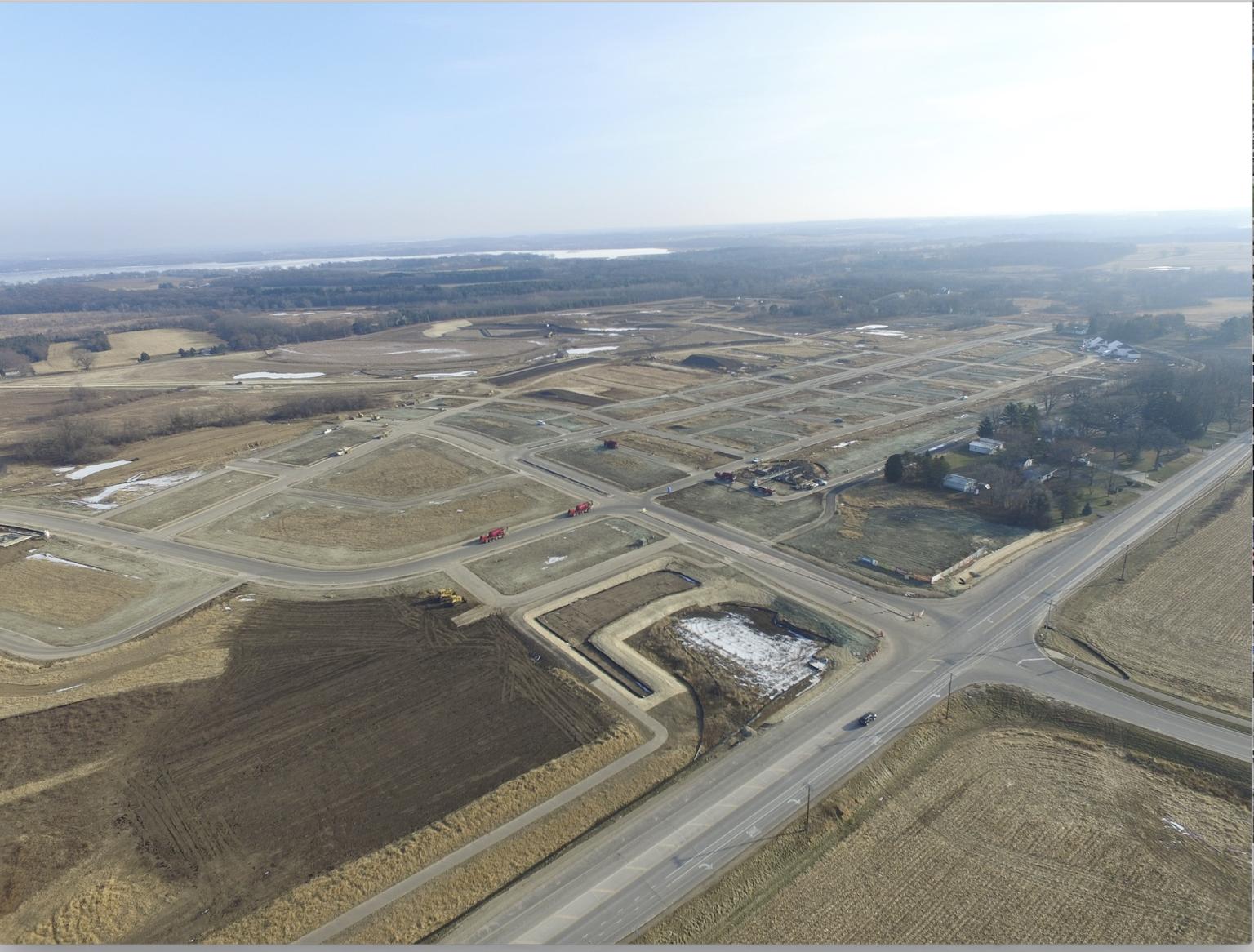 The Oregon School District is especially excited about the new school's location in Terravessa, a unique Fitchburg neighborhood currently under development. Terravessa was designed with an emphasis on sustainability, as well as parks and open spaces. And in addition to traditional amenities such as bike and walking paths, you can expect to find urban farming, public artwork, and disc golf, as well as conversation and gathering areas in Terravessa. Perfect for a school outing.
If you have children younger than school age, you'll be pleased to know that a new daycare, Mariposa Learning Center, has also broken ground right next to the school. Both will be open for the 2020 school year.
Students from other neighborhoods will attend Forest Ridge, but consider this — if you lived in Terravessa, you could walk your child to school or daycare. What could be better than that?
Area Listings
Copyright 2022, South Central Wisconsin MLS Corporation. IDX information is provided exclusively for consumers' personal, non-commercial use and that it may not be used for any purpose other than to identify prospective properties consumers may be interested in purchasing. This information, provided by seller, listing broker, and other parties, may not have been verified. All rights reserved.
Updated: 1st December, 2022 4:48 PM (UTC).