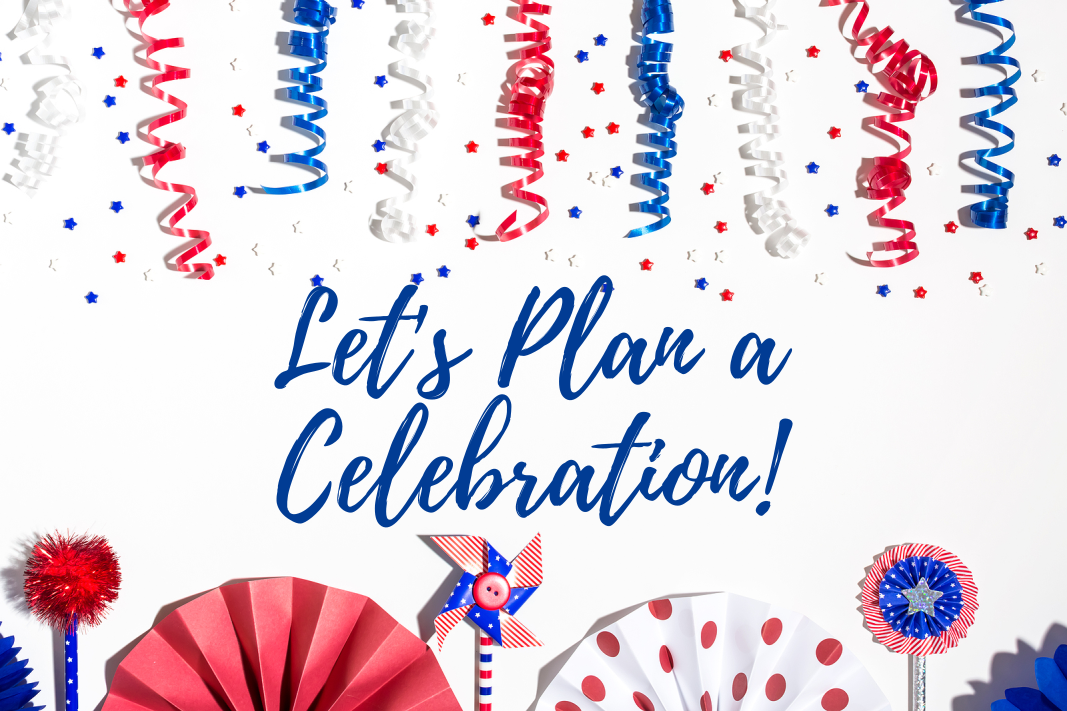 The weather's heating up, and with Covid still lingering in the background, July 4th is the perfect time to host a summer outdoor get-together. So why not start preparing now?
First up, decorations
If the sky's the limit, you can find great decorations anywhere. But if you're on a budget – and really, who isn't? – there are a lot of places to find cute fun decorations without breaking the bank.
If you start early enough, you can check out neighborhood garage sales.

A lot of people have too many decorations, have moved or downsized, or the or kids are grown, and they just want to get rid of a few.
Another good source is the Dollar Store.

As the name implies, they offer a lot of great items at low prices.
Discount stores like Target and Walmart are often good choices.
So are lower priced shopping outlets like Home Goods, Marshall's, and TJ Maxx.
And of course, there's always Amazon.
Got kids?

Let them help make decorations.

It's a fun activity and you can find a lot of How-to guides online and on YouTube for great ideas.
Plan the type of event
Will this be an open house where people stop by for a bit? Or will it be a defined amount of time with food at a specific time? Or even a sit-down dinner? Most 4th of July barbecues are generally casual – with a cookout and buffet, but of course, that's up to you.
How will you invite people?
Word of mouth, phone calls, email, evite, or formal written invitations? All those options are fine – choose what best fits your lifestyle, your friend group, and the type of event you're hosting.
Food – What will you serve?
Cook-outs are the perfect choice for this time of year.

Weather is usually good and firing up the grill is easy, fun – and removes a big part of the mess from the kitchen!
Will you cater it?

Make it all yourself or ask guests to bring a dish to pass.

People are so excited to be out and about again, that no one will mind pitching in.
Menu.

If you have a wide range of guests, it's Ok to plan your menu around the general crowd, but be sure to include some things that can be eaten by vegetarians – salad, potatoes, fruit, vegetables, etc.
And if you want to celebrate the 4th with food there are a lot of recipes out there.
Here are some popular options:
Hot dogs and apple pie, of course, are pure Americana
Small group?

Try regional recipes like these from the Midwest
How about a red, white, and blue dessert?

Here are some fun ones!

And they taste great too!
If this is a family event – especially in your neighborhood – why not have the kids do a parade – or bike parade.
Not everyone is a game person, so a good approach is to set them up so those who want to play, can, but no one is forced to.
Here are some great ideas: cornhole (or beanbag toss), croquet, tug of war, water balloons, lawn bowling, ring toss, and rubber horseshoes,
Turn up the speakers with some fun summer songs – ranging from Take Me Out to the Ballgame to Margaritaville, and the Beach Boys to Grease.
And if everyone is old enough, or properly supervised, bring out the sparklers!
Have a safe and fun 4th of July!