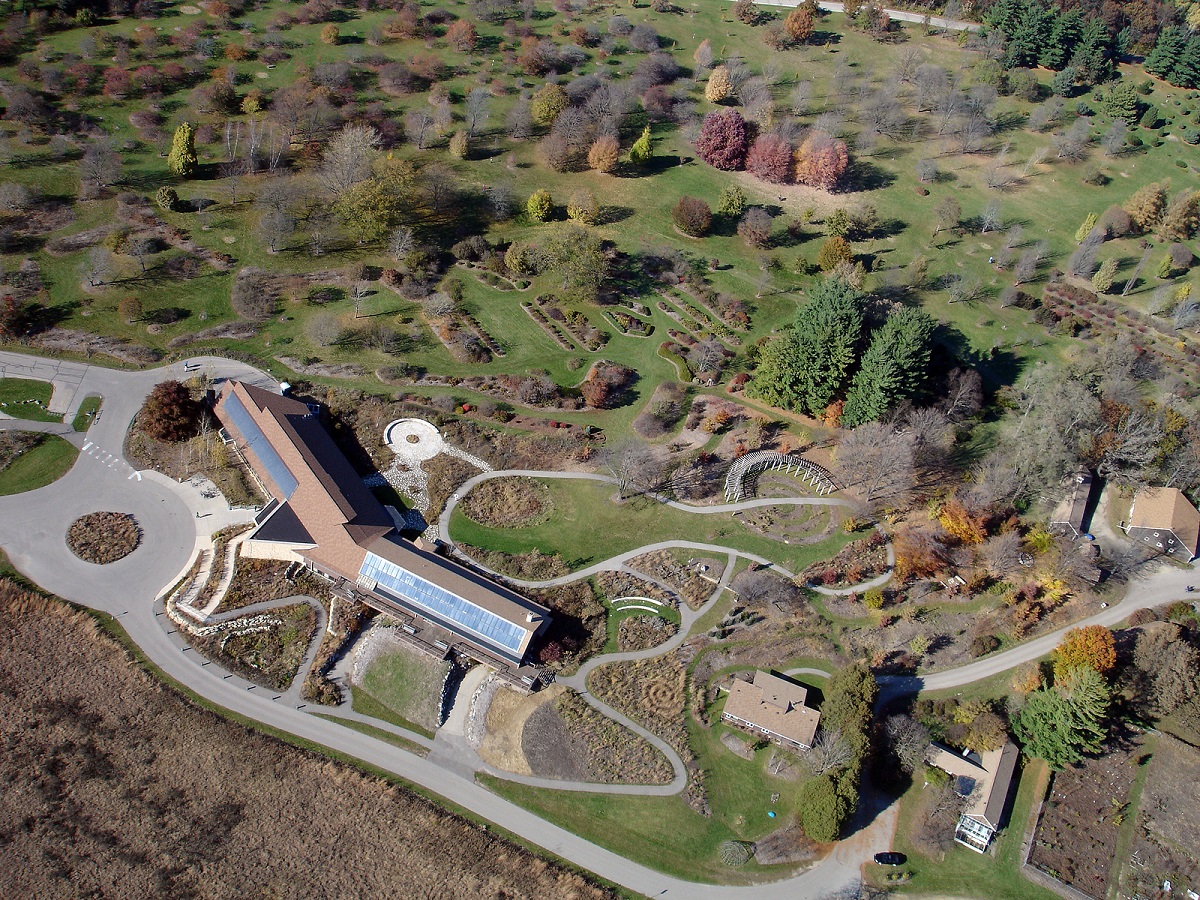 A hidden jewel in our own backyard
Most Madisonians have heard of the University of Wisconsin Arboretum. Some use it daily – perhaps for walking or biking. Some have been there on a school trip. Or even a wedding. But many of us take it for granted, forget about it entirely, or simply don't realize all the things it has to offer!
So why not check it out this summer?
You'll find a Visitor Center jam-packed with information, 17 miles of trails, an amazing variety of plant and animal life, and even Native American effigy mounds. The Arboretum is a natural wonder. And it's open to the public from 4:00 a.m. to 10:00 p.m. daily.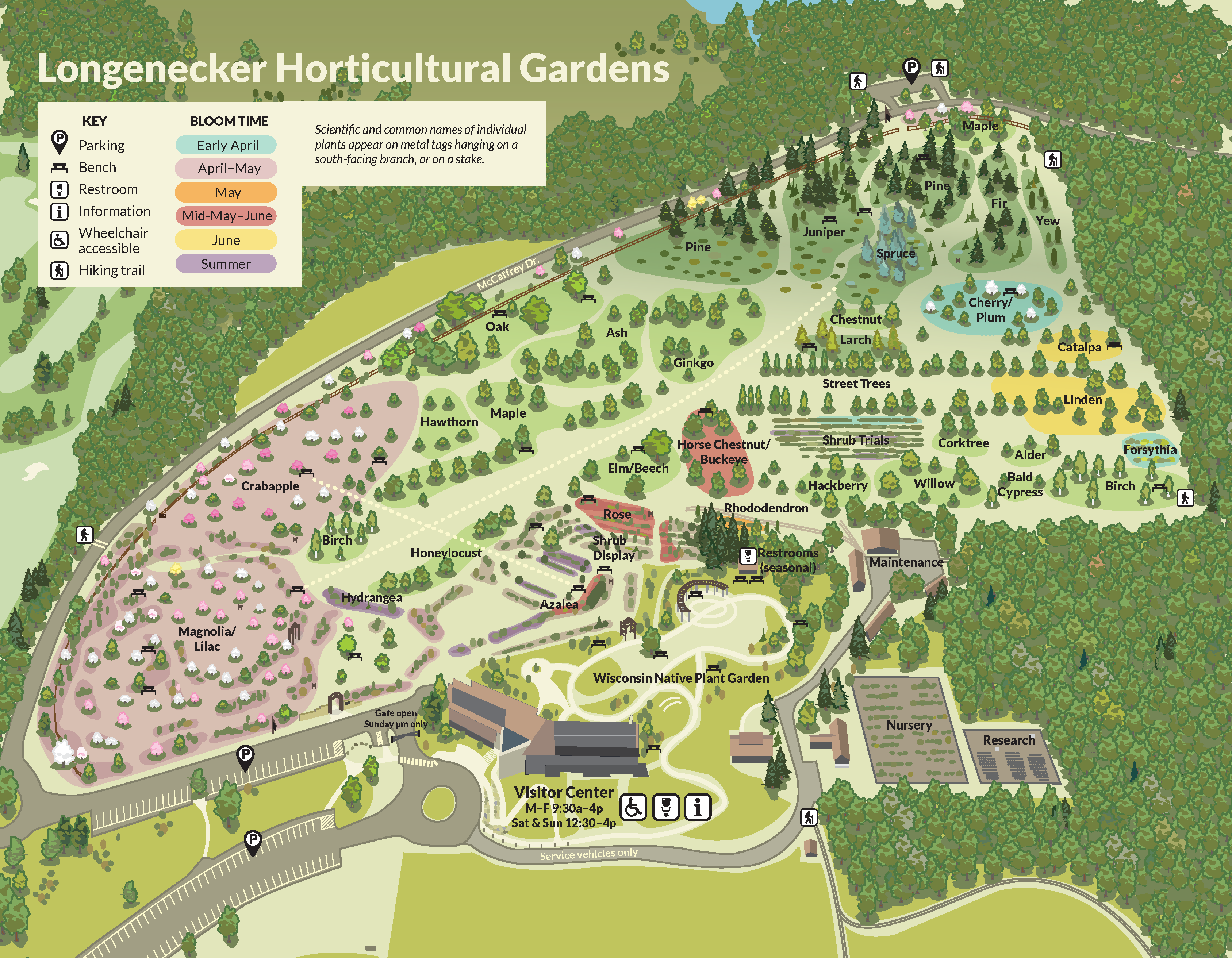 The Visitor Center, which is open 9:30 a.m. – 4 p.m. weekdays and 12:30 – 4 p.m. weekends. You'll find a theater with murals by nature artist Victor Bakhtin. You can watch an orientation film on Arboretum history and the importance of ecological restoration – and the center houses a large library of books about plants, animals, birds, ecosystems, and restoration ecology. There's also a bookstore, art gallery, auditorium, and classrooms. And if you're just looking for a place to kick back and rest for a minute or two, you'll find a large reception area with restrooms and drinking fountains, as well as friendly volunteers to answer your questions and provide information about the Arboretum.
Gardens
The Arboretum is well-known for its three distinct – and beautiful – gardens. There's the horticultural garden, viburnum garden, and Wisconsin Native Plant Garden. Free tours are available from April to October, on Wednesday evenings and Saturday afternoons.
Trails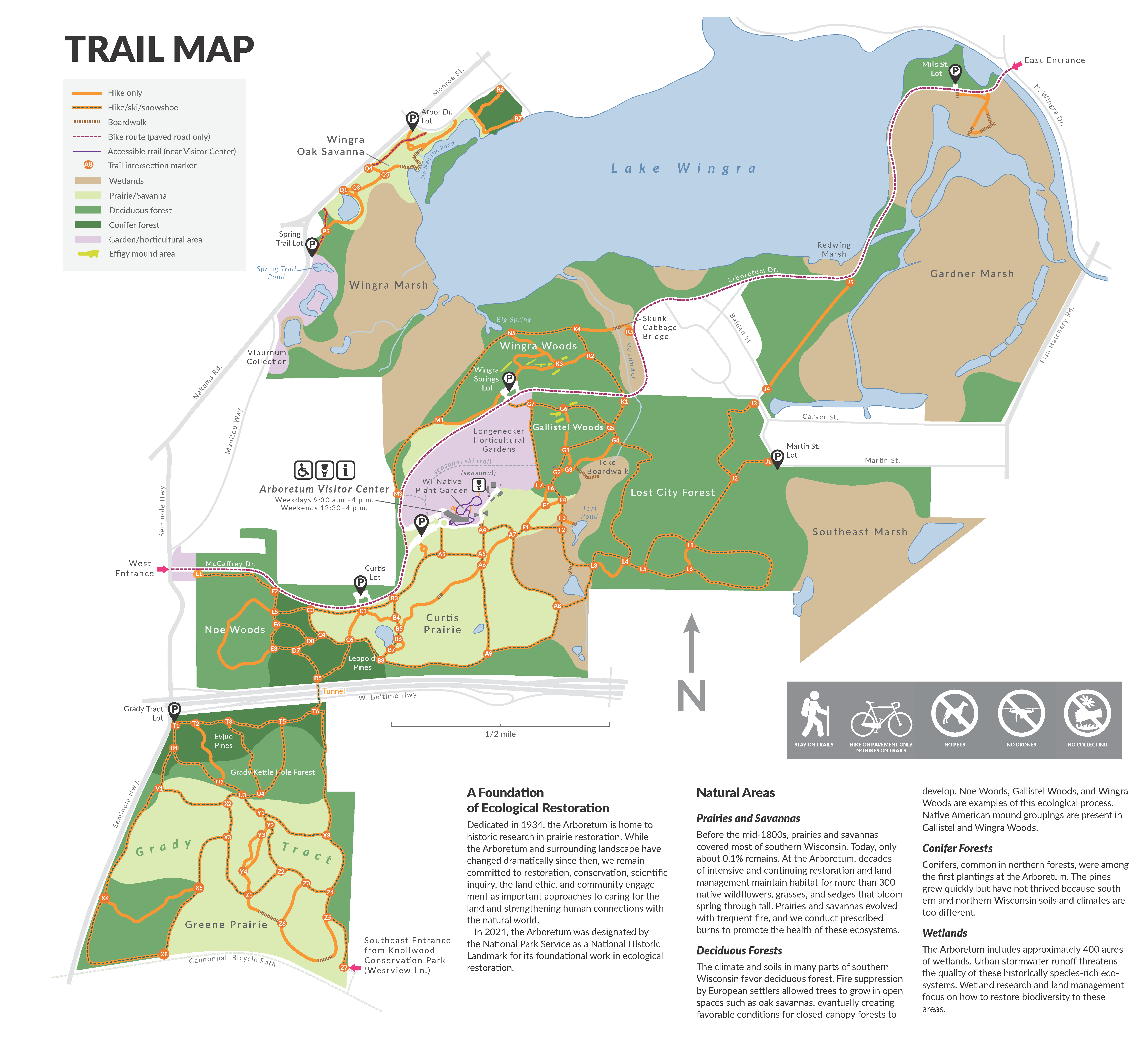 For walkers, hikers or nature lovers, there are 17 miles of trails. Enjoy them on your own or take a guided tour. You can bird-watch, enjoy the changing seasons, observe blooming wildflowers, take in the fall colors, and learn about winter ecology. There's lots to discover at the Arboretum. Use the trail map to locate particular ecological communities and gardens.
Free nature walks are a great introduction to the Arboretum. Learn how to identify plants and animals, as well as many ecological concepts. You can also schedule a private group tour for adults as well as school and youth groups.
Exercise
Runners and cyclists can use 4 miles of paved road through woodlands, wetlands, and prairie. (Note that walkers and runners should travel single file on paved roads, facing traffic, on the road's edge. You can also run on the unpaved fire lanes and footpaths within the Arboretum. But biking on unpaved areas is prohibited).
Winter Activities
Although you won't be able to do these in the summer months, mark your calendar for Madison's winters when you can go skiing and snowshoeing through the Arboretum's 10+ miles of multi-use trails. Skis and snowshoes are allowed only on designated trails – and off-trail skiing, snowshoeing, and hiking is not permitted.
Natural Areas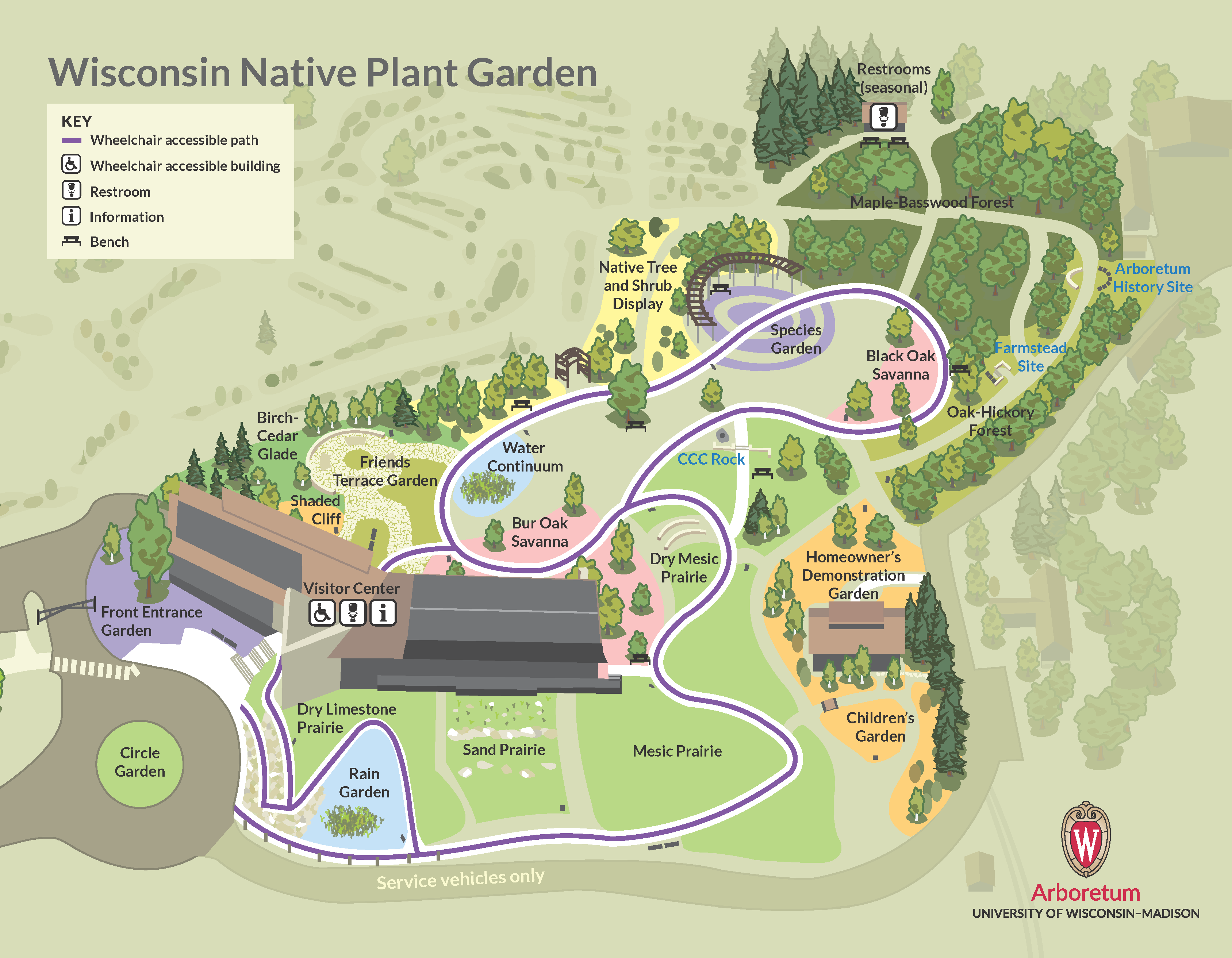 Take time to visit and enjoy the Arboretum's natural areas – from woodlands, savannas, and prairies to wetlands. The Arboretum was actually established with the intent of providing opportunities for visitors to study and re-establish "original Wisconsin." So why not do just that?
Photos
Whether you want some photos for personal keepsakes, Instagram, or even a nature calendar, nature-loving artists and photographers will find excellent subject matter here in the Arboretum. Just be sure to read the photo policy first.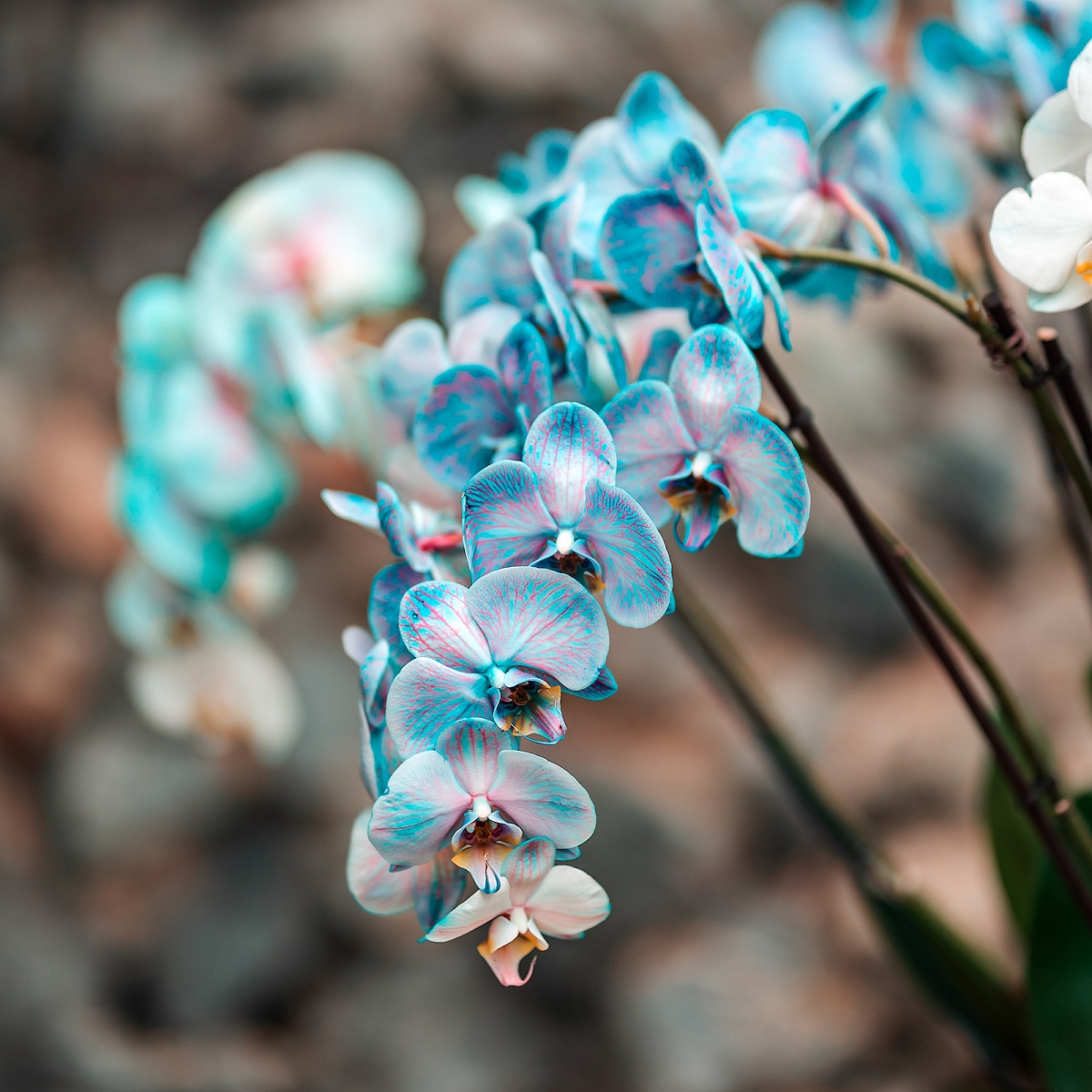 And if you enjoy your visit, you might even want to consider volunteering. Volunteers are the lifeblood of the Arboretum – and there are many opportunities for volunteering. They range from individual to family or organizations. You can work in the Visitor Center, tackle some gardening, volunteer at a day camp, help with specific events, and much more.
There's a lot to see and do – and love – about the UW Arboretum. Make it a day trip – or make it a tradition.