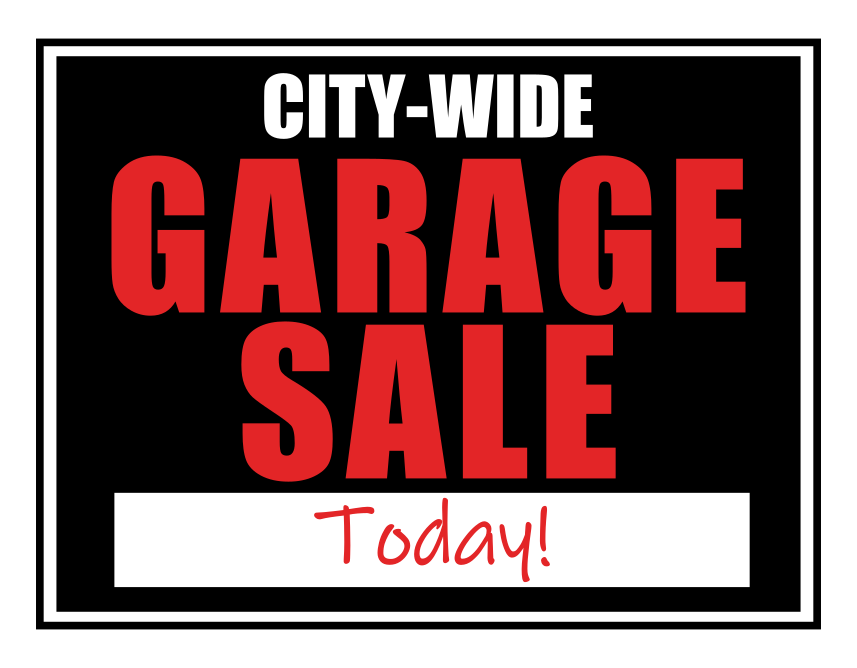 June is a great month. The weather has warmed up to summer temperatures. Flowers are in bloom. And you're either tripping over an excess of miscellaneous lawn tools in your garage or wondering where you can get some cheap! In short, it's the perfect time for a garage sale.
If that sounds like a lot of work, well, we won't lie – it sort of is. But if you're just thinking that it will be overwhelming and complicated, take comfort when we tell you – it doesn't have to be. Here are some tricks and tips to help you clean out all those things that have accumulated over the years – while having fun and making a little profit in the process.
If your neighborhood or community hosts a garage sale annually, by all means join in.

Usually someone else will handle promoting it – and these sales usually draw a lot of people because there are so many houses offering up goodies.
If that's already happened this year, or there is no such thing near you, that's OK.

Pick a date and start planning for it early.

Post on your social media, as well as craigslist and Marketplace, a week or so in advance.

Provide dates, times, and the location. Be sure to list items of special interest.

And by all means, post some photos.
Plan to have the sale run over the course of two days.

This gives you flexibility.

Although once you pick a date and time, don't change it.

Shoppers like to plan ahead too.

Mornings usually draw the best crowds so plan for an 8:00 a.m. start on Friday, running until mid-afternoon or so.

(You don't have to list an end time).

On Saturday, start bright and early again, but don't feel you need to be at it all day.

Around noon, take stock of what you have left and how much the crowds have thinned.

At this point, many garage-salers, mark the remaining items down drastically.

Typically, 30-50% off is good.

Or offer a BOGO.

Buy a book, shirt, or beanie baby and get one free.

Garage sale shoppers love a good deal.
Several weeks before the sale, start going through your stuff.

You may find things you didn't even remember you had – birthday presents you never wanted, excess items, or items you or the kids have outgrown.

Look everywhere – from the basement to the attic.

From garage to closets, bookshelves, toy chests, kitchen drawers and cabinets.

Don't use it?

Sell it!
If you have children, let them offer up a few items they no longer use to sell – for a share of the profits, of course.
It's better to price things ahead of time, even if you're willing to go down.

Items with no tags make people wonder.

(It's like eating at a restaurant with no prices on the menu – you assume it's going to be expensive! And that turns buyers away.
Make sure everything is clean, in good shape, and in working order.
Best sellers?

Baby clothes, kid's clothes, kid's toys, kitchen items, lawn care items, bikes, sporting goods, or gardening goods.

Furniture – especially outdoor furniture – is good if priced right.

Books, adult clothes, and linens are fine – especially at reduced or BOGO prices.

The key is to have enough best-sellers to draw them in.

Once there, they just might buy something else.
For larger items, it's ok to price slightly higher than you expect to get, so you can come down on the price if someone wants to bargain – making it a win-win for both of you.

BUT – don't price things so high that it turns people off.

Remember the goal is to get rid of these things!
In fact, if you price too high, potential buyers may just glance around and leave.

The cheaper the price, the more apt shoppers are to buy more stuff.

And that's your ultimate goal.

Don't let the original cost or fondness for the item, keep you from letting go.
Take offers.

Or not.

You probably have a price in mind – especially when it comes to "valuable" or sentimental items.

If someone asks you to come down in the first hour, I'd say don't do it – unless you really want to get rid of it.

But what you can do, is tell shoppers you've only just begun, and suggest they stop back or call you later in the day or the next day to see if it's still there.

Depending on how much they want it, that will pay full price to get it right away, make a better offer, or give them hope that they still might get it later.

If the item isn't important to you, you need the space (or money to buy something new), or if the offer is later in the day and/or no one has shown much interest in the item, go ahead sell it on the spot.
Prepare in advance with a trip to the bank for an assortment of dollar bills and coins.

You'll need to be able to make change.
Make your display look nice.

If it's all tossed in a heap, no one will bother to paw through it.

During a lull, fold clothes, straightens items, put like items together ­– just like you'd see at a store!
Display items by like items.

Housewares together, books together, clothes together.

You get the idea.
Display signs at nearby streets and cross streets.

Put a sign and balloons by your mailbox.
Have plastic grocery bags available for shoppers who buy multiple items.

Also be prepared to wrap dishes, and other potentially breakable items in newspaper or bubble wrap to prevent breakage.
It's OK (even desirable) to sell make-up samples.

But don't try to sell used make-up.

Don't sell broken goods.
And unless it's forbidden by a neighborhood or community garage sale event, think about including refreshments.

Snacks, baked goods, lemonade, coffee, or bottled water will refresh and appeal to your buyers – while generating a little more income for you.
What now? Well, the goal was to clean out and declutter, so resist the urge to bring it all back inside. Seriously. The exception is something you think you might still use, or something you sincerely feel would likely sell the next weekend or next year. The rest? If it's in good shape and you're thinking it could be valuable to someone, take it to a consignment shop. Otherwise box it up for Goodwill, where someone will surely get good use out of it. After all, one person's trash is indeed another one's treasure.
Good luck!