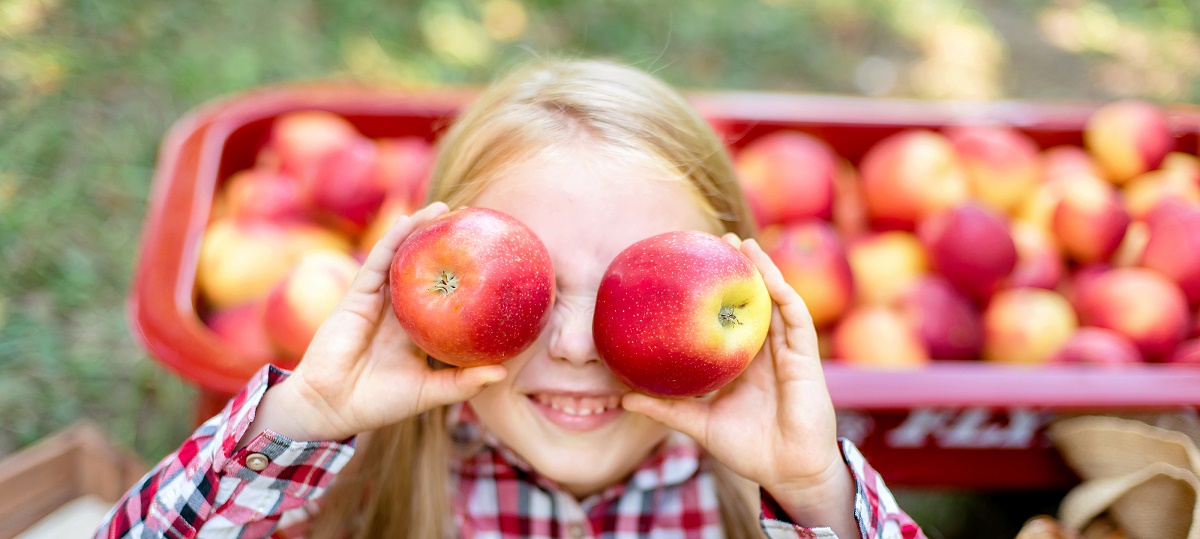 Summer may have gone too fast, but now that fall is in the air, why not take advantage of it? Colorful leaves and crisp clean air. You can almost smell the fragrance of local apples grown on tress right here at a southern Wisconsin apple orchard. And believe me – they do taste and smell way better than the ones we get all winter long from faraway places!
If your senses are extra sharp, you may even be able to imagine the smell of a freshly baked pie or hot simmering cider. Well, it doesn't have to be only in your imagination! Here are 12 local apple orchards you may want to visit. Whether you just want to run out and pick up a bag of ready-picked apples or make a day of it sipping cider or picking your own, you're sure to find a handy orchard nearby.
And if you love apples but a trip to the orchard just isn't your thing, there are always local apples for sale at most of the area farmer's markets. And some of the area grocery stores – Miller's Market in Verona and Brennan's Market on Madison's West Side for instance – generally carry locally picked apples as well. Just call ahead to find out what's in stock!

Eplegaarden
2227 Fitchburg Rd, Fitchburg
608.845.5966
OPEN:
Tues – Thur | 9am-1pm
Fri – Sun | 9am-5pm
Facebook @EplegaardenLLC
Apple picking, fresh cider, apple jams, apple cider doughnuts, honey, caramel apple-making kits – and of course, bags of ready-picked apples, await.

This family-favorite, also offers horse-drawn hayrides, hillside hikes and a large pumpkin patch.

Oh, and if you have a fall event coming up… they also rent out their Pavilion and Big Red Barn for private events.
Appleberry Farm
8079 Maurer Rd, Cross Plains
608.798.2780
OPEN:
Mon – Thur | 9am-12pm
Friday – Sun | 9am-5pm
Reservations needed for Sat & Sun
Facebook @UPickAppleberryFarm
Apples, pumpkins, and berries (in season), oh my!

There is a lot to like at Appleberry Farms all fall and summer long.

Dogs are welcome as long as they are on-leash (and you pick up after any, um accidents).
Door Creek Orchard
3252 Vilas Rd, Cottage Grove
608.828.4762
OPEN:
Wed – Fri | 12pm-6pm
Sat – Sun |

9am-5pm*
*Time-Slot reservation required for pick-your-own on weekends (sign up online)
Facebook @DoorCreekOrchard
Once a dairy farm, Door Creek is now an apple orchard, surrounded by wetland, prairie, fields, and woodlands – a beautiful place to spend an autumn afternoon.

Enjoy fresh fruit and cider while taking in the view or walking the nature trial.
Schroeder's Orchard
6680 Redstone Ln, Verona
608.845.9351
OPEN:
Contact for days and times
Facebook @schroedersorchard
A self-described "hobby that got out of hand," Schroeder's Orchard found themselves making more apples than they could eat – or give away to family and friends.

Lucky us!

Find their wares at the Hilldale Farmer's Market.
Pleasant Springs Orchard
2722 Williams Dr, Stoughton
724.972.1729
OPEN:
Mon,

Thur – Sun | 11am-6pm
(Pick-your-own not offered)
Visit the orchard store or pick up a bag of apples at the Stoughton, West Side, and Monona Farmer's Markets.

With more than 50 varieties to choose from, you're sure to find an old – or new – favorite!

And don't forget to grab some apple cider.
Sutter's RidgeFarm
2074 Sutter Dr, Mt Horeb
608.832.6445
OPEN:
Thur – Sun | 10am-5pm
Facebook @SuttersRidge
Besides all the delicious apples to choose from, Sutter's Ridge is the place for fall fun!

There's a corn maze ($5 per person), tractor track, peddle go-cart track, mini-maze, hay pile for climbing, human rat races, yard games, farm animals, and picnic tables.

A great way to spend a fall day with the family.
Jones Orchard
3005 Siggelkow Rd, McFarland
608.833.3328
OPEN:
Contact for days and times


From mid-August through mid-November, Jones Orchard is open for business – the business of selling apples, peaches, plums, pears, concord grapes and vegetables.

Yum.
Alpine Ridge

Orchard


5610 Alpine Rd, Brooklyn
608.219.9208
OPEN:
Tues – Sun | 10am-6pm
Facebook @AlpineRidgeOrchard
From pumpkins and garden vegetables to apples, Alpine Ridge came about as the result of a family loving the great outdoor – and deciding to share nature's beauty and the bounty with the public.

Today the fun includes apples, pumpkins, vegetables, and farm animals to pet. Enjoy an apple cider doughnut (with a glass of cider of course).

And for dessert?

Try some sliced caramel apples, apple pie, apple crisp, apple turnovers and pumpkin bars.
Munchkey Apples
175 Drammen Valley Rd, Mt Horeb
608.523.1163
OPEN:
Mon, Wed – Sun | 9am-5pm
Facebook @MunchkeyApples
With 9,000 trees, you're sure to find an apple to your liking at this orchard just 30 minutes southwest of Madison.

Grab a bag or ready-picked, pick your own – or pick up up some apple butter or apple sauce.

And don't forget to pay a visit to "Little Georgie!"
Lapacek's Orchard
N1959 Kroncke Rd, Poynette
608.635.4780
OPEN:
Wed – Fri | 9am-5pm
Sat | 10am-5pm, Sun | 10am-4pm
(Pick-your-own not offered)
Facebook @LapaceksOrchard
"Apples and fun just north of Madison" is the slogan for this orchard with 60+ varieties of apples.

All apples are pre-picked for your convenience, but feel free to walk through the orchard or pick out your own pumpkin in the pumpkin patch.

The kids will enjoy the scavenger hunt and playing on the equipment.

For new (along with tried and true) ideas for your apples, check out their website blog for some great apple recipes.

Also be sure to watch their Cider After Dark YouTube series – featuring adult apple cocktails!
Eugster's Farm

Market


3865 WI-138, Stoughton
608.873.3822
OPEN:
Mon, Wed – Sun | 10am-5pm
Contact for special weekend & weekday event information or check
Facebook @Eugsters-Farm-Market-120536904650643
You may know Eugster's for their sweet corn or petting zoo, but this 30-year-old favorite is much more than that.

During fall apple season, they host Orchard Days Weekends.

Visit the petting farm, pick apples in the orchard, walk through the 2-acre kid corn maze (or 8-acre Big Corn Maze), and grab some treats at the outdoor Milk House Bakery.
Ski-Hi Fruit Farm
E11219A Ski Hi Rd
Baraboo WI 53913
608.356.3695
OPEN:
Sun – Thur | 8am-5pm
Fri & Sat | 8am-6pm
Facebook @SkiHiFruitFarm
Located just south of Baraboo among the area's scenic bluffs, this one is a little farther afield but it's well worth the trip.

In fact, it's no surprise that schools, day cares, seniors and other groups often make Ski-Hi a destination field trip.

With 8,000 trees spanning 50 acres, there's apples for everyone.

Enjoy apple cider and fresh-made baked goods (pies, fritters and doughnuts to name a few), as well as locally-produced food and gift items – and lot and lots of fresh air!

Pack a picnic lunch and top it off with an apple treat.

Take a self-guided tour through the orchards and let the kids sit behind the wheel of a vintage tractor or visit their barnyard friends.

A great family day trip!