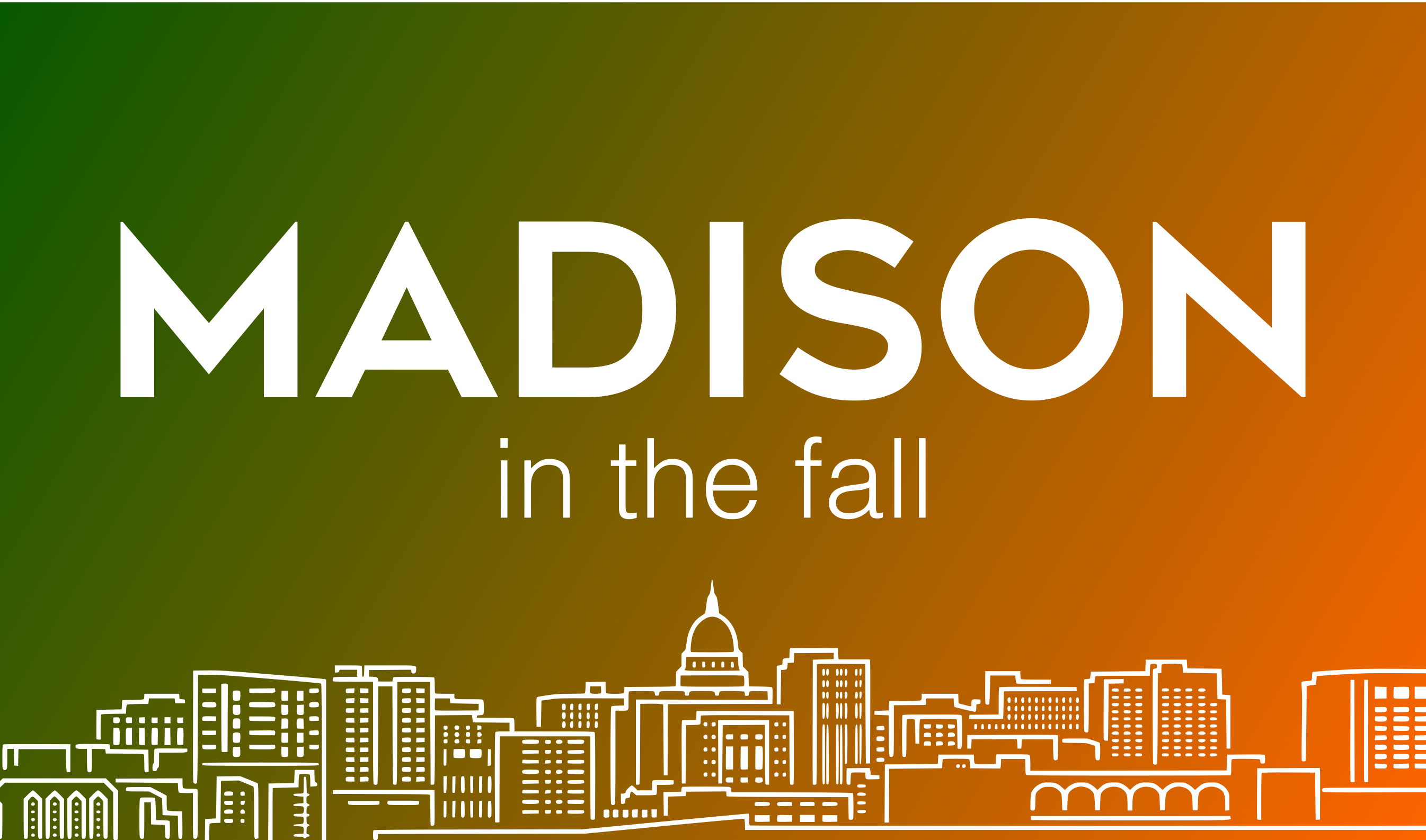 One of the best things about living in or near Madison is the number of activities, events, festivals and fun to be had just a short drive away. No matter the time of year, there is always something going on whether you're a sports nut, shopper, fair-goer, or foodie.
By late November and December, the area is getting their holiday happenings in full swing, but fall in Wisconsin has a lot to offer as well. Here are just a few of the events going on in the greater Madison area in the coming weeks. Some of these are recurring, while others are one-time events. What looks good to you?
Hamilton | Madison, WI

11/19 — 12/8
Overture Center
You're right – this isn't really a fall activity, but it's certainly worth mentioning as something to do in Madison at this time of year! This highly-acclaimed, Tony-award-winning Broadway play is coming to Madison for the first time — and staying for three weeks. The story of founding father, Alexander Hamilton is told through music — including hip-hop, jazz, blues and rap. If you haven't seen it, it's well worth the ticket!
Downtown Baraboo Winter Wine Walk | Baraboo, WI
11/22
Downtown Baraboo
Local merchants host a wine-testing tour featuring two (1 oz.) glasses of wines, treats, and shopping throughout the downtown area.
Friends of The Waunakee Library Annual Holiday Craft Fair | Waunakee, WI
11/23
Waunakee Public Library
Stop by to browse the wares of over 60 vendors at this craft fair, bake sale, book sale and raffle.
Berbee Derby | Fitchburg, WI
11/28
Fitchburg Agora
Run off those Thanksgiving calories early in the day with this Thanksgiving 5K and 10K run/walk. All ages welcome. Snacks and coffee are available in the warming tent in case you need them!
Black Friday Sale at The Museum Store | Madison, WI
11/29
Madison Museum of Contemporary Art Store
Holiday gifts galore — at 25% off! Need we say more?
Madison Makers Black Friday Market & Pub-Crawl| Madison, WI
11/29
The Briinklounge Madison, High Noon Saloon, Tangent, Bos Meadery, Old Sugar Distillery, Giant Jones Brewing Co and Working Draft Beer Co. provide the setting for a family-friendly shopping spree with a chance to wet your whistle. You'll find knit goods, candles, jewelry, paper goods, bath and body, baked goods, confections, toys, wood and metal work, cross stitch and embroidery, fiber arts, and photography — and of course, beverages of your choice.
FALL 2019 PAST EVENTS — Check 'em out next year!
Monona Fall Festival | Monona, WI
10/9 — 10/20
Browse the arts and crafts fair, sample chili from the Chili Festival and Cook-off and the Monona Pie Party, check out the climbing wall, petting zoo, hayrides, face painting, cow-milking contest, and much more.
Busy Barns Adventure Farm | Fort Atkinson, WI
Weekends through 10/27
Everyone loves a day on the farm – and fall is a special time at Busy Barns. Bring the family out to enjoy a myriad of activities including hayrides, exploring the pumpkin patch, walking the corn maze, tackling a kids' obstacle course and much more.
Fridays At Enchanted Valley Acres Fall Fun | Cross Plains, WI
Fridays from 10/4 — 10/25
There's lots to do on Fridays at Enchanted Valley Acres. Navigate the corn maze, choose your own pumpkin, or slide down one of two Giant Slides and then stop for a snack at the concession stand.
Hollow-Een | Blue Mounds, WI
10/24 —10/27
Cave of the Mounds
Family fun includes tours of the caves, a costume contest, trick or treating for "natural treasures," digging for bones, hayrides, "Holloween Scientists" activities and experiments in the Barn Discovery Center, story time and a scavenger hunt.
Haumerson's Pond Haunted Hike | Fort Atkinson, WI
10/25 — 10/26
Billed as a Holiday Spooktacular, this family-friendly event features an evening haunted candlelight stroll where families can hear ghost stories and take part in kids' crafts.
Freakfest 2019 | Madison
10/26
State Street
This iconic event features costumes, music, and access to all that State Street has to offer in terms of food and adult beverages. What more could you want in a Halloween Party?
Great Halloween Hunt | Fitchburg, WI
10/26
Fitchburg Public Library
The perfect Halloween event for the kids in your life. There will be two magic shows, a scavenger hunt, crafts, balloon animals, spooky photos, treats, and prizes, followed by a showing of popular movie, "The Incredibles," starting at 8:30 for those that want to stay a little longer.
6th Annual Ghoulish Lunch & Pumpkin Carving Contest | Madison, WI
10/31
Fluno Center
Come for lunch and stay for the pumpkin-carving judging and costume contest.
Adult Halloween Costume Party | Fitchburg, WI
10/31
Yahara Bay Distillers
Enjoy this adult costume party, complete with DJ, door prizes and craft cocktails.
Rudolph The Red-Nosed Reindeer: The Musical | Madison, WI
11/6
Overture Center
The most beloved reindeer will be joined in song with the likes of Yukon Cornelius, the Abominable Snow Monster and the Misfit Toys as they share the message of celebrating our differences and fulfilling our destiny. Fun for the whole family.
Winter Art Fair off the Square | Madison, WI
11/9 — 11/10
Monona Terrace
With more than 135 Wisconsin exhibitors, fair-goers will find a great selection of pottery, paintings, fiber, glass art, wood, photography, jewelry, graphics and sculpture. There will also be a silent auction, Musical entertainment, and Young Collector's Corner where children under 12 can purchase art at lower cost.
A Better U Fair | Madison, WI
11/9
Olbrich Gardens
This unique fair will showcase vendors and practitioners of all things holistic, homeopathic, naturopathic, and healing.
Annual Lighted Holiday Parade | Fort Atkinson, WI
11/9
A true community event, this parade welcomes participants from local schools, businesses, clubs, churches along with many floats, and of course, Santa and Mrs. Claus. After the parade, stay for dinner at the Chili Cook-off held in the Municipal Building.
Wisconsin Dog Fair| Madison, WI
11/10
Alliant Energy Center
While it's true that a dog fair isn't a typical fall event, it's certainly a fun one! They say gifting pets for the holidays is a bad idea. So here's your chance to meet various breeds of dogs, speak with breeders, and learn about a dog's size, energy level and personality traits to help you decide if you should get a dog — and what breed might be right for your family. Dog toys, treats and accessories are also available to purchase for those wanting to buy gifts for their favorite furry friends.
Madison Marathon Presented by SSM Health | Madison, WI
11/10
Capitol Square
The Madison Marathon attracts runners from all over the country. Come out and run or cheer on those that do. SSM Health will also sponsor a free health and fitness expo at Monona Terrace that is open to the public.
A Christmas Story | Fort Atkinson, WI
10/31 — 12/22
Fireside Theatre
The iconic Christmas movie about little Ralphie, who wants a BB gun for Christmas, is brought to life on the Fireside stage from Halloween through late December. Don't miss it!
Holiday Fantasy in Lights| Madison, WI
11/10/19 — 1/1/20, dusk to dawn
Olin Park
Grab the family, pile into the car, and drive through this spectacular light show, which begins in mid-November and runs through the holidays. You'll see more than 50 holiday light displays all from the warmth of your car!
MMoCA Art & Gift Fair | Madison, WI
11/16 — 17
Madison Museum of Contemporary Art
This winter art fair provides the perfect opportunity to stock up on unique holiday gifts – or buy something special for yourself. More than 100 booths will offer art and fine crafts, jewelry and artful wearables, gourmet foods, and specialty gifts. There will also be live music, dance performances, creative demonstrations, and other attractions for the whole family. And to top it off, there will be wine.