Mansion Hill. Even the name sounds glamorous. But did you know that this historic downtown Madison neighborhood, nestled between Lake Mendota and the Capitol Square, stretching from James Madison Park (almost) to the Memorial Union Terrace, was once known by a couple of other nicknames?
Yep. They say, "a rose by any other name would smell as sweet," and the thousands of students that have flocked to Langdon Street since 1960 when UW-Madison stopped requiring undergrads to live on campus, probably don't care. But would the newly-renovated and popular Edgewater Hotel sound as impressive if it were located on Big Bug Hill? I think not.
This prominent neighborhood is steeped in history, with 4 Victorian Mansions sitting at the corner of Gilman and Pinckney Streets — hearkening to days gone by. In fact, the Mansion Hill neighborhood boasts the most intact Victorian homes still in Madison today.
Sadly, for several decades in the mid-1900s, several more were replaced with apartment buildings, along with a large insurance company. Fortunately, neighbors took action, and in 1976, the neighborhood was declared Madison's first historic district.
So, what will you find here now?

Well, for one, guests are very welcome. The Edgewater Hotel, built in 1948, provides guest rooms for Madison's visitors, as well as conference and dining rooms (both indoors and out) overlooking Lake Mendota. The 1970s-era Concourse Hotel a block off the Square, is another draw for conference-goers and sports enthusiasts coming to Madison.
And for those wanting a cozier charm, there's the Mansion Hill Inn, a luxurious Victorian B&B on North Pinckney St. And of course, no matter where they're from, UW students still feel right at home. While many students have left the older apartments on Langdon St. in favor of nearby luxury high-rises, the street is still home to many stately sorority and fraternity houses dating back to just before the turn of the 20th century. Other students gravitate to older homes in the area — in appreciation of the fact the lake is so close you can smell it!
Ironically, with the historic influence so prevalent here, Mansion Hill holds a tremendous appeal for the young. The 2010 Census Bureau reports that Mansion Hill was home to 2,164 residents — with an average age of 29.

Residents and visitors alike love the near-perfect location. It's close to the lake for swimming, hiking or biking — either along the shore parallel to Langdon St. or further east at James Madison Park. Walking a few short blocks to the Capitol Square will put you in the middle of some of the best dining the city has to offer. And at the other end of the neighborhood, there's the UW-Madison campus, where the Memorial Union Terrace beckons with its beautiful lake views, pitchers of beer, Wisconsin brats, live music and Babcock ice cream.
But even with its young and energetic vibe, Mansion Hill is more than just students. In fact, since the neighborhood became protected as a landmark district, it has piqued the interest of people who know that the historic nature of this area is now guaranteed to be preserved. That means house hunters are recognizing the appeal and potential of restoring these Mansion Hill homes. Some may be buying intending to remodel for rental but a surprising number are now buying these beautiful old homes as a permanent residence — for themselves.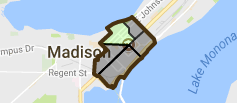 Mansion Hill Historic District
Facebook Page for Historic Mansion Hill
Downtown Neighborhood Association of Madison, WI