If you've ever watched the holiday classic, Home Alone (which by the way turns 25 this fall), you know that burglars are often on the prowl at this time of year. Unfortunately most robbers are not as stupid as the bungling duo, Harry and Marv. And most "empty" homes are, well, empty – not occupied with resourceful children who were accidentally left behind.
One insurance company noted a "holiday bump" of 25% more theft claims during the holidays – with as many as 50 claims reported each day. So what's going on? Well, the holidays are attractive to burglars for a number of reasons. The main reason, of course, is that a lot of people travel for Thanksgiving or Christmas – leaving an abundance of vacant homes. And what's more appealing to a thief than an empty house?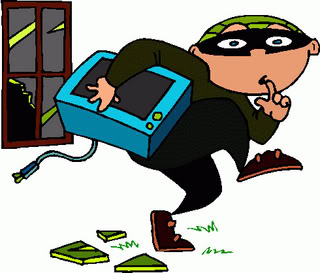 Another prime reason for this seasonal appeal is that there are a lot of valuables ripe for the taking – all wrapped up and piled high in one place. Right under the Christmas tree.
So whether you recently bought a new house, are getting one decorated to sell, or are just observing holiday traditions as usual, here are some tips to keep those burglars at bay.
Protect the presents!

Don't leave gifts where they can be easily seen from the street. Many people position their Christmas tree near a window and that's fine – but keep the gifts low and out of sight. Or better yet – hide them in closets or the basement until the big day. Presents that can be seen near a window may tempt robbers to smash and grab.

If you like the look of presents under the tree, leave them out leading up to Christmas and then put them away if you're planning to spend any extended time away for the holidays.

Going somewhere?

If you do plan to travel, be sure to leave your house looking "lived in." Use a timer to turn on lights at night and turn them off in the morning. And outdoor lights can deter burglars who prefer not to be seen by your doors or windows.
Use the buddy system.

Some neighborhoods have a neighborhood watch in place where people keep an eye on their neighbor's houses and report any suspicious activity.

If you don't have this – or even if you do – tell a nearby neighbor or friend that you'll be going out of town. Ask them to keep an eye on your house while you're away.

While you're gone.

Have neighbors pick up your newspaper and bring in your mail. Leaving papers on the driveway or letting the mailbox fill up, send a clear message to burglars that no one is home!

Parking place.

Consider having a neighbor park their car in your driveway so it appears like someone is home. If you live where it snows, even parking in your garage can be effective, since they'll be leaving tracks in the snow which make it look like you're there.

And speaking of snow…

If Mother Nature dumps a lot of snow on your driveway and sidewalks, be sure to have someone lined up to shovel the walks and plow out the driveway. Six inches of fresh snow is a dead giveaway that no one is around.

Safe and secure.

If you have a security system, turn it on when you're away – even if it's only while you're at work or running errands. If you don't have one, consider getting a wireless security system and installing it yourself – especially if you're planning to be out of town.

Lock up.

Ok, so this one is a given in Wisconsin. Who'd leave their doors or windows open in the winter? But if you're in a warmer climate – or spending the holidays there – be sure to lock your doors and windows tightly. And even Up North, don't forget to close and lock your doors behind you if you're running over to the neighbor's or walking your dog.

Expecting a package?

There's a lot of online shopping going on at this time of year and most deliveries just get tossed on your doorstep. Burglars have even been reported following delivery trucks and stealing packages as soon as they're delivered! So if you're expecting packages while you're away, have them delivered to a neighbor or ask a friend to stop by and pick them up. And don't leave a note on your door saying no one's home to accept a package! Any helpful burglar would be happy to pick them up them for you.

Hidden keys.

Just like burglars know the most common places that people hide their money, they know where to look to find your extra key. So don't leave one under the mat or flowerpot or over the front door. Give an extra key to a friend or neighbor for safekeeping.

Don't tweet, post or blog about your trip.

Social media is a wonderful thing, but save the news – and photos – for when you get home. And don't broadcast when and where you're going (until you get back). It's an open invitation for burglars to have themselves a house party!
RELATED:
Holiday Decorating When Your House is For Sale
Should you list your house at Christmastime?